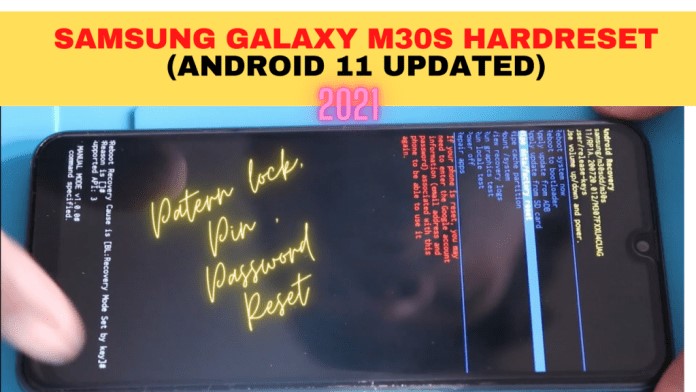 In this article, I will help you to hard reset latest Samsung Mobile phones which are already updated to Android 11. Here I will give an example of the Samsung Galaxy M30s. If you forget your pattern lock or phone lock, it will definitely help you.
Before doing hard reset, please be sure your all data will be erased by this process.
Requirements:
For the latest Android 11 updated models, you need a computer or laptop and a data cable to proceed with this hard reset.
Steps:
Connect Samsung M30s mobile to PC or laptop using a data cable
You will see the charging symbol after the data cable connection.
Do not connect the mobile with the Charging adaptor.
Switch off your mobile
It will require your passcode or pattern lock to enter for switching off your mobile.
If you don't know your passcode, you can switch off Samsung M30s forcefully.
For this, press down Power Key, Volume Up key & Volume Down simultaneously till the charging logo appears. Release all keys and your mobile is switched off now.
Enter into Android Recovery Mode
Press Volume Up Key and Power Key simultaneously till Android Rect Page appears. You can disconnect data cable from Samsung M30s mobile now.
Go to Wipe Data / Factory Reset
The touch screen will not be functional in Android Recovery mode. Volume Up, volume down, and Power Key are used to navigate. So press volume down to go to Wipe Data/ Factory Reset bar.
Do Wipe Data and factory reset
After going to the Wipe Data/ Factory Reset bar, press the Power key once.
It will ask for confirmation.
Press volume down once and then press the power key to wipe data and factory reset your Samsung M30s mobile.
You can see 'Wipe data complete' after successfully formatting.
Reboot your Samsung M30s
Once data wiping completes, 'Reboot system now' is already highlighted.
Press the power key once to reboot your mobile. To complete reboot or restart, it will take 3 to 15 min.
Older mobile having more data takes more time to reboot the mobile.
After rebooting the mobile, it will come to the starting page. In this way, you will successfully hard-reset Samsung mobile phones.
For a better understanding, you can watch my YouTube video below. Please do subscribe to my channel.