This article is about the Sleep mode solution for Mobile phones. Sleep mode in Samsung mobile phones is a very common problem. As a mobile phone engineer, a lot of customers visit your service center to repair sleep mode issues.
What is Sleep Mode?
When you switch on your mobile phone, the mobile display screen is on up to a certain second (as per your settings). After that, the display screen turns off automatically till you press the power key once.
This is called Sleep Mode.
After pressing the power key, if the display screen doesn't turn on, this stage is known as Sleep Mode Problem.
When does Sleep Mode Problem in Samsung Mobile come?
Generally, Sleep mode problem comes due to liquid damage.
There is a Hall Sensor IC present in almost all Samsung model mobile phones.
This Hall Sensor IC is also known as Flip Cover Detect IC.
Most of the time this Hall Sensor IC gets easily damaged when it contacts liquid. So, the Sleep Mode problem occurs.
Hall Sensor IC or Flip Cover detect IC
Hall sensor IC is a four pins IC
1.8V VDD (IN)
GND (through the coil)
NC
TP_Cover_Int (OUT)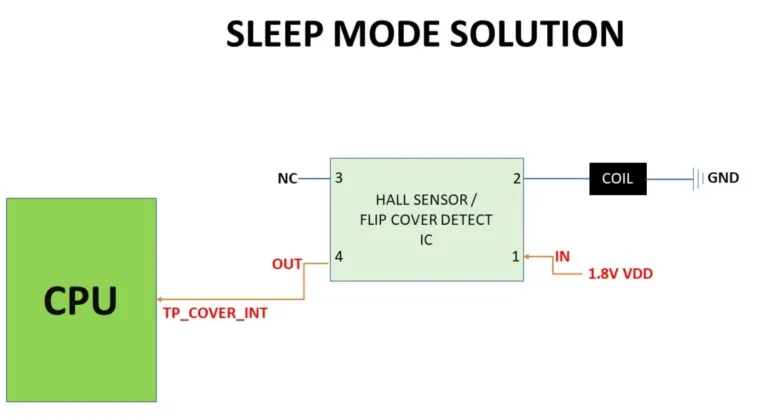 This IC is present near the Charging port and gets easily damaged by any liquid.
How to repair Samsung mobile Sleep mode problem
First, disassemble the mobile phone and take out the Motherboard.
Do physical inspection for any liquid damage and check Hall Sensor IC.
De-solder Hall sensor IC and check any track missing under this IC.
Most of the cases, the pin-1 track gets burnt as1.8V VDD supply is always present at pin-1 of Hall Sensor IC.
Use a jumper wire to make track if it is missing.
Solder a new or used Hall Sensor IC. And your problem will be solved.
Samsung Mobile Sleep mode solution without Hall Sensor IC
Sometimes, the Hall sensor IC is not available to you. Still, you can repair it without Hall Sensor IC.
Just take a jumper wire and make soldering it from Pin-1 to Pin-2 of Hall Sensor IC.
In this case, the Sleep mode problem will be solved, but auto flip cover detection will not happen.
For reference, watch this video
Also, read this article: Poco M3 dead solution